Having diabetes is no fun. I should know. I've got it myself.
They say misery loves company, but I've already got plenty of diabetic companions, thank you just the same. We don't need any more.
So I've written a book trying to make sure that other people at risk of developing diabetes never join our ranks.
Diabetes is a genetic disease. But environment plays a role as well. If you have diabetes genes, you may be able to fight it off if you make sure you lead an active life and don't overeat.
That's easy to say but difficult to do in America, where everywhere we go people are trying to save us labor (think Segway) and feed us more (think All-You-Can-Eat Buffet).
"Gretchen has a superb talent for knowing and writing about the current science of diabetes in a voice that is clear and even fun to read.."
–David Mendosa, patient and Internet journalist
In Stop Diabetes, I explain how type 2 diabetes works, and I give 50 different suggestions for things you can try to do to help you eat less and move more.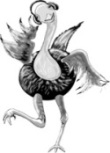 Make your exercise enjoyable!
In fact, even though this book was written with the prediabetic person in mind, it would also be useful for someone who already has diabetes. People with diabetes, like those trying to prevent it, should also eat less and move more.
My first book, The First Year: Type 2 Diabetes, was written for the person who wants in-depth information about type 2 diabetes as well as emotional empathy. This book is shorter and doesn't go into as much detail. If you just want suggestions for improving your lifestyle, this would be the place to start.